Texas has a long past and with history comes hauntings. As we creep up on Halloween next week, we wanted to share some of the spookiest spots in the Lone Star State.
Right here in our hometown of Houston is a little haunted wine bar that some say is where ghost and spirits meet to play. La Carafe is approximately 130 years old and is believed to be the oldest bar in town. The structure is the oldest commercial building still in use and many people swear that La Carafe is haunted. Weary travelers who visited the site when it was a stagecoach station may still linger and customers ensure they've spotted the former bartender moving drinks and whistling "Dixie." After so many years, we're certain at least a few of these haunted happenings must be true.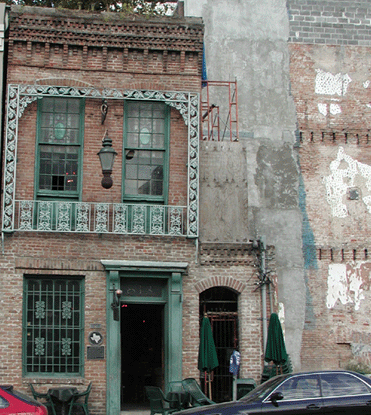 The Baker Hotel in Mineral Wells, Texas has long been closed, but that doesn't mean there aren't plenty of stories that still linger in its place. During the 1950s and early '60s, there were many accounts of people witnessing the ghost of a bloody woman. Stories say she was the mistress of the hotel manager who killed herself by jumping off the top of the building. Some have reported smelling her perfume and her spirit is said to be quite flirtatious. The building, which was listed on the National Register of Historic Places in 1982, was in constant use from 1929 to 1963, including a three-year period during World War II in which it served as military dependent quarters. It closed in 1963, but visitors say there is still plenty of activity happening in Mineral Wells.
There's nothing more frightening than a haunted asylum. If you are feeling brave, take a trip up to The White Sanitarium in Wichita Falls, Texas. The asylum opened in 1926 under the direction of Frank S. White, the former superintendent at the state asylum in Austin. In 1939, the building was abandoned after it was damaged due to severe flooding and remained a weary eyesore until 2002 when someone finally purchased the property. There were so many tales of horror and hell associated with the asylum that most investors wouldn't touch it. One student told a tale of high school friends discovering abandoned manacles in the asylum's basement, while other local residents have seen ghosts playing cards and have heard unexplained screams coming from the direction of the asylum. We hear it's on its way to becoming an apartment complex, but we're not so sure we'd sign a lease.
The Jefferson Hotel in Jefferson, Texas might be considered one of the most haunted hotels in America. Their ghosts have been said to hurl objects and lock tourists into one of the haunted rooms quite often. After a post-Civil War fire led to its reconstruction, many people started hearing mysterious echoing footsteps, knocks on the door in the middle of the day and night and witnessing other eerie experiences in this haunted hotspot. Nowadays, Jefferson is known as one of the most haunted small towns in Texas and we wouldn't disagree. Go ahead and visit this 150-year-old building and let us know what whispers you experience.
We hope you're not shakin' in your boots.  If you're feeling brave we recommend visiting a few of these historic spots to see if you experience anything extra haunted this Halloween. And, if you have a Texas ghost story, we'd love for you to share it with us on our Facebook page today.